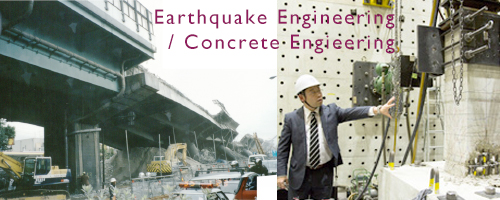 Our Laboratory
The research topics of Structural Dynamics group are centered around various engineering issues related to structural dynamics, earthquake engineering, and design of structural systems for large-scale infrastructures. The area of interest also covers the application of the state-of-the-art dynamic response modofication devices, sophisticated high peformance strcutures.
In addition, recently in bridge earthquake engineering, performance evaluation based on material deterioration has been important. Therefore, researches on concrete materials and structures are conducted.
Earthquake Engineering and Structural Dynamics
Sophisticated High Seismic Performance Structure (Robust Structure, Metabolism Structure)
Bridge Bearing Structures, especially Seismic Isolation Bearings
Hybrid Simulation to evaluate Dynamic Response of Large-scale Structural Systems
Construction Materials of Infrastructures
Mechanism of user-friendly and environment-friendly geopolymer concrete and its application
Long-term Deterioration of Concrete Structures due to Air-born Salt
What's New
2020-04-01

Keita Uemura appointed Assistant Professor of Structural Dynamics Laboratory.

2019-05-01

Yoshikazu Takahashi appointed Professor of Structural Dynamics Laboratory, transferred from Structural Material Lab. and Lin An appointed Associate Professor of this Lab., transferred from Bridge Engeering Lab.

2019-05-01

Prof. Yagi and Assistant Prof. Noguchi transferred to Bridge Engineering Laboratory.

2019-04-26

Four undergraduates join our laboratory.

What's new in the past is here.